Kromeriz Archbishop's Palace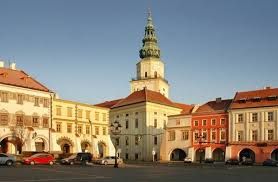 City Kromeriz officially recognized by the beautiful historic city of the Czech Republic, located in the eastern part of Moravia. It was here, on the main square of the town, is a palace and park ensemble, created in the 15th century. Since 1777, this palace served as the residence for the bishops and archbishops.
History of the town and the castle is very old. Back in 1110 the territory of present Kromeriz passed into the possession of the Olomouc episcopate. In 1260, under the patronage of Bishop Bruno of Schauenburg on the spot settlement town was laid.
Kromeriz castle, built along with a new city, to the early 16th century was significantly changed. Executed in the Renaissance style palace includes a tower and four wings. In those times, the territory adjacent to the castle was decorated with ponds and landscaped gardens.
During the Thirty Years War, the famous estate was significantly destroyed. A few years later, on the initiative of the bishop of Olomouc, Karl II of Liechtenstein, the castle was restored. In work on the transformation of the building attended by the best Italian court architects, resulting in a beautiful palace was built in the style of Mannerism. On the old foundation of the castle was built a new three-storey building, whose facade is decorated with pilasters, corbels and corner arcade. Around the palace were planted flower gardens and broken Baroque garden.
Today Episcopal residence in Kroměříž is the main attraction of the city. Her staterooms surprise with their extraordinary beauty. Interior rooms complement the murals, covers painting, antique furniture and crystal chandeliers.
The residence is famous for its collections of ancient manuscripts and incunabula, as well as the well-known music collection Liechtenstein genuine creations of Mozart and Haydn.
Picture gallery of the palace in Kroměříž one of the best in the country. It presents the paintings of famous artists such as Titian, Van Dyck, Breughel, Veronese and other artists. Separate deserve admiration castle gardens, which are recognized masterpiece of landscape design.
In 1998, the Episcopal Palace in Kroměříž residence and its gardens have been listed as UNESCO World Heritage Site.